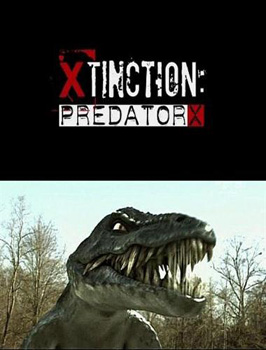 Alligator X is a 2010 horror sci-fi American monster movie directed by Amir Valinia.
When her father seemingly goes missing, Laura LeCrois is forced to return home and face a terrifying creature living in the Louisiana wetlands: Alligator X, the "T-Rex of the ocean!"
Mark Sheppard as Dr. Charles LeBlanc
Elena Lyons as Laura LeCrois
Paul Wall as Froggy
Lochlyn Munro as Sheriff Tim Richards
The greatest predator in history...is back!
They said it was extinct. They were wrong.
Reception
Edit
The film holds a rating of 100% on review aggregator Rotten Tomatoes. It has a rating 2.6/10 on IMDb.
Ad blocker interference detected!
Wikia is a free-to-use site that makes money from advertising. We have a modified experience for viewers using ad blockers

Wikia is not accessible if you've made further modifications. Remove the custom ad blocker rule(s) and the page will load as expected.