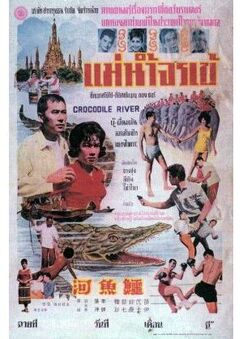 Crocodile River (แม่น้ำจระเ) is a 1964 Thai tragic romance film directed Lo Wei. This is the first Thai crocodile movie.
Crocodile River movie features Romeo And Juliet-flavored story. Families are against each other. Yodi (Paul Chang Chung) is the Romeo and Lee Ting is his Juliet. The two students love each other from across a river that is filled with crocodiles. Families are living on opposite sides of the river. Hidden secrets between both families cause fights to happen. Yodi's parents try to push him to another girl but he is not interested. The girl tries to get his interest by using her sexy shapes but it is enough. Yodi swims across the river to be reunited with Lee Ting. Following a fight between Yodi and Lee Ting's brother (Man Teeraphol), Lee Ting cannot leave the house and her father removes all her clothes to ensure she doesn't going out naked. The girl's father uses saboteurs on his neighbors' property and they put fire in a barn. Finally Lee Tin flees from her house and swims across the river. Yodi helps her as crocodiles are converging towards her. But it is too late for both of them. Their death makes the two clans to pacify. Lee Tin's brother seems to be Yodi's father hidden son.
Paul Chang Chung as Yodi
Man Teeraphol as Lee Tin's brother
Yaowaret Nisakorn
Lee Ting
Malee Wetpraseri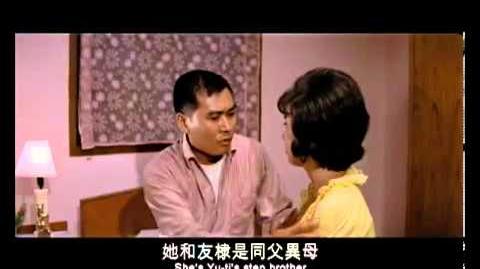 Ad blocker interference detected!
Wikia is a free-to-use site that makes money from advertising. We have a modified experience for viewers using ad blockers

Wikia is not accessible if you've made further modifications. Remove the custom ad blocker rule(s) and the page will load as expected.