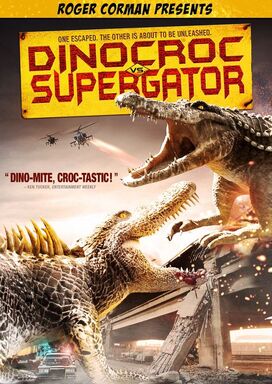 Dinocroc vs. Supergator is a 2010 television film that premiered on Syfy on June 26, 2010. This is one of David Carradine's final performances. The film was released on DVD and Blu-ray on July 12, 2011.
An unscrupulous biotech corporation run by the shady Jason Drake creates two gigantic reptiles in a secret island laboratory. Things go awry when the ravenous beasts escape from the lab. It's up to earnest undercover government investigator Paul Beaumont, spunky Fish and Game officer Cassidy Swanson, and rugged redneck swamp hunter The Cajun to figure out a way to destroy the lethal lizards before it's too late.
David Carradine as Jason Drake
Corey Landis as Paul Beaumont
Amy Rasimas as Cassidy Swanson
Rib Hillis as Bob Loga
John Callahan as Charlie Swanson
Delia Shepard as Kimbery Taft
Jerry Hess as Jerry the Pool Boy
Shane Schoeppner as Scientist - Kill #2
Production
Edit
Roger Corman gave Syfy the idea but they didn't know if they wanted to do it. But they filmed it anyway and hoped that Syfy would buy the rights for television.
Home media
Edit
Dinocroc vs. Supergator was released on DVD and Blu-ray on July 12, 2011.
David Carradine only worked for one day.
Director Jim Wynorski had to act in a small role because the actor who was originally cast in the part was unable to say any lines.
Director Jim Wynorski broke his arm during the making of this film when he fell out of a helicopter.
The sequence with the SWAT team was shot in a single day.
This is one of David Carradine's last movies.
The Cajun's boat was actually the camera boat.
The aerial shots that play over the opening credits were filmed in a couple of hours.