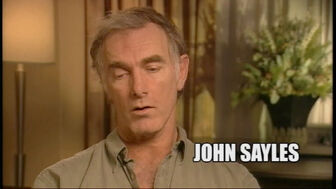 John Thomas Sayles is an American independent film director, screenwriter, actor and author.
Early life
Edit
Sayles was born in Schenectady, New York, the son of Mary (née Rausch), a teacher, and Donald John Sayles, a school administrator. He was raised Catholic and took to labeling himself "a Catholic atheist".  Both of Sayles's parents were of half-Irish descent.
Filmography
Edit
Writer/Director
Edit
Return of the Secaucus 7 (1979)
Lianna (1983)
Baby It's You (1983)
The Brother from Another Planet (1984)
Matewan (1987)
Eight Men Out (1988) (Also actor portraying Ring Lardner)
City of Hope (1991)
Passion Fish (1992)
The Secret of Roan Inish (1994)
Lone Star (1996)
Men with Guns (1997)
Limbo (1999)
Sunshine State (2002)
Casa de los Babys (2003)
Silver City (2004)
Honeydripper (2007)
Amigo (2010)
Go for Sisters (2013)
Writer (movies)
Edit
Piranha (1978)
The Lady in Red (1979)
Alligator (1980)
Battle Beyond the Stars (1980)
The Howling (1981)
The Challenge (with Richard Maxwell) (1982)
Enormous Changes at the Last Minute (with Susan Rice) (1983)
The Clan of the Cave Bear (1986)
Wild Thing (1987)
Breaking In (1989)
Men of War (with Ethan Reiff and Cyrus Voris) (1994)
Apollo 13 (1995) (uncredited)
The Spiderwick Chronicles (Co-writer with David Berenbaum and Karey Kirkpatrick) (2008)
Ad blocker interference detected!
Wikia is a free-to-use site that makes money from advertising. We have a modified experience for viewers using ad blockers

Wikia is not accessible if you've made further modifications. Remove the custom ad blocker rule(s) and the page will load as expected.