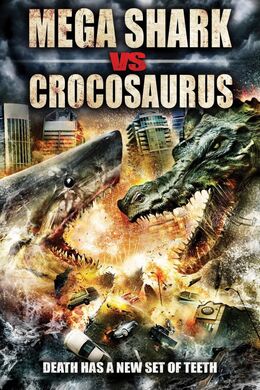 Mega Shark Versus Crocosaurus is a monster disaster film by The Asylum, released on December 21, 2010 in the United States. The film stars Jaleel White, Gary Stretch, Robert Picardo, Dylan Vox, Hannah Cowley and Sarah Lieving.
The film is a sequel to the 2009 film Mega Shark Versus Giant Octopus but contains little of the original cast from that film.
A gigantic, immensely powerful shark does battle with a fierce primordial crocodile from Africa.
Jaleel White as Lt. Terry McCormick
Gary Stretch as Nigel Putnam
Sarah Lieving as Special Agent Hutchinson
Robert Picardo as Admiral Calvin
Gerald Webb as Jean
Dylan Vox as CWO Butowski
Hannah Cowley as Legatt
Michael Gaglio as Captain Smalls
Jessica Irvine as the USS Omaha Captain
Steve Mason as an Investigator
Neil Watson as an Investigator II
Robert R. Shafer as Charlie Ross
Darin Cooper as Commander Vail
Luke Noll as Hobo Rogers McFreely
Joey David Garcia as Teenager
Claire Scott as Teenager
Clem Hansen as Teenager
Production
Edit
Connections with other Asylum titles
Edit
The film makes numerous references to Mega Shark Versus Giant Octopus, such as an autographed photo of singer/songwriter/actress Debbie Gibson and the Japanese poster of the first film. In addition, scenes of people panicking are taken from the film Megafault.
The ship in the beginning of the movie, the USS Gibson, is a battleship. At present there are no battleships serving in any navy, including the United States Navy.