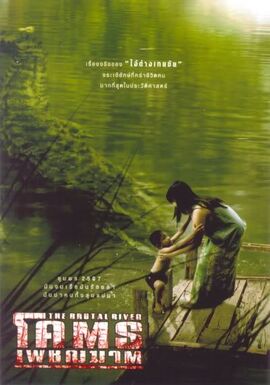 The Brutal River (Khoht phetchakhaat in Thai) is a 2005 Thai horror film directed by Anat Yuangngern and starring Chartchai Ngamsan, Chirapat Wongpaisanlux and Worapod Cha'am.
In the 1960s, there were few places on Earth as quiet and peaceful as Thailand's Chumporn province, where people continue to live life the old country way. This tranquility is shattered the day an unknown dead man's body is found along the banks of the river waterway. Soon after, villagers began to mysteriously disappear for no reason. The local people endeavor to learn the cause of the disappearances and the identity of the unknown stranger. While trying to track the unknown murderer, strange tracks are found, which could have only been made by some sort of huge animal.....
Chartchai Ngamsan as Jamnong Phimaan
Chirapat Wongpaisanlux as Pikul Phimaan (as Jirapat Wongpaisarn)
Worapod Cha'am as Narinthorn
Lukana Lisani as Karakate
Ad blocker interference detected!
Wikia is a free-to-use site that makes money from advertising. We have a modified experience for viewers using ad blockers

Wikia is not accessible if you've made further modifications. Remove the custom ad blocker rule(s) and the page will load as expected.