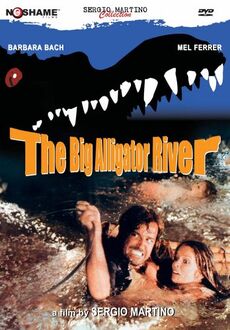 The Great Alligator River, originally Il fiume del grande caimano and also known as Alligators, Big Alligator River and The Big Caimano River, is a 1979 Italian adventure film directed by Sergio Martino.
Tourists on a tropical island anger an island god, who turns himself into a giant alligator and stalks them.
Barbara Bach as Alice Brandt
Claudio Cassinelli as Daniel Nessel
Mel Ferrer as Joshua
Richard Johnson as Prophet Jameson
Romano Puppo as Peter
Anny Papa as Laura
Enzo Fisichella as Maurice, lover of Minou's Mother
Lory Del Santo as Jane
Clara Colosimo as Tourist
German Import DVD has a Super-8 Version (German language only), as a special feature on the disc.
A clip of this movie is on "The 50 Worst Movies Ever Made" DVD Region 1 NTSC.